Get Real News
Other Media Outlets Don't Report
Get Informed With Truthful and Unbiased Reporting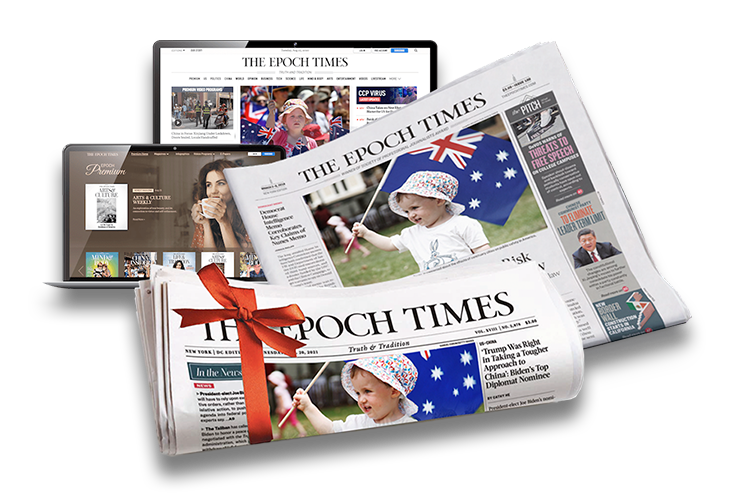 Weekly Newspaper + Digital
billed every month at $26*
billed every 6 months at $130*
billed every 12 months at $234*
PRINT NEWSPAPER




Delivered to your door every week+Digital Newsletter delivered to your email

UNLIMITED DIGITAL ACCESS




Breaking, AUS, US, political, China and world news

EPOCH PREMIUM CONTENT




Investigative reports and Infographics, 4 weekly digital magazines, premium news articles and opinion commentaries.

EPOCH TV




Our exclusive programming includes investigative news analysis, in-depth interviews and award-winning documentaries. Watch live and on-demand anytime, anywhere on all devices.
billed every 12 months at $234*
Understand The World With Investigative Journalism
How the CCP Seeks to Control America [Infographic]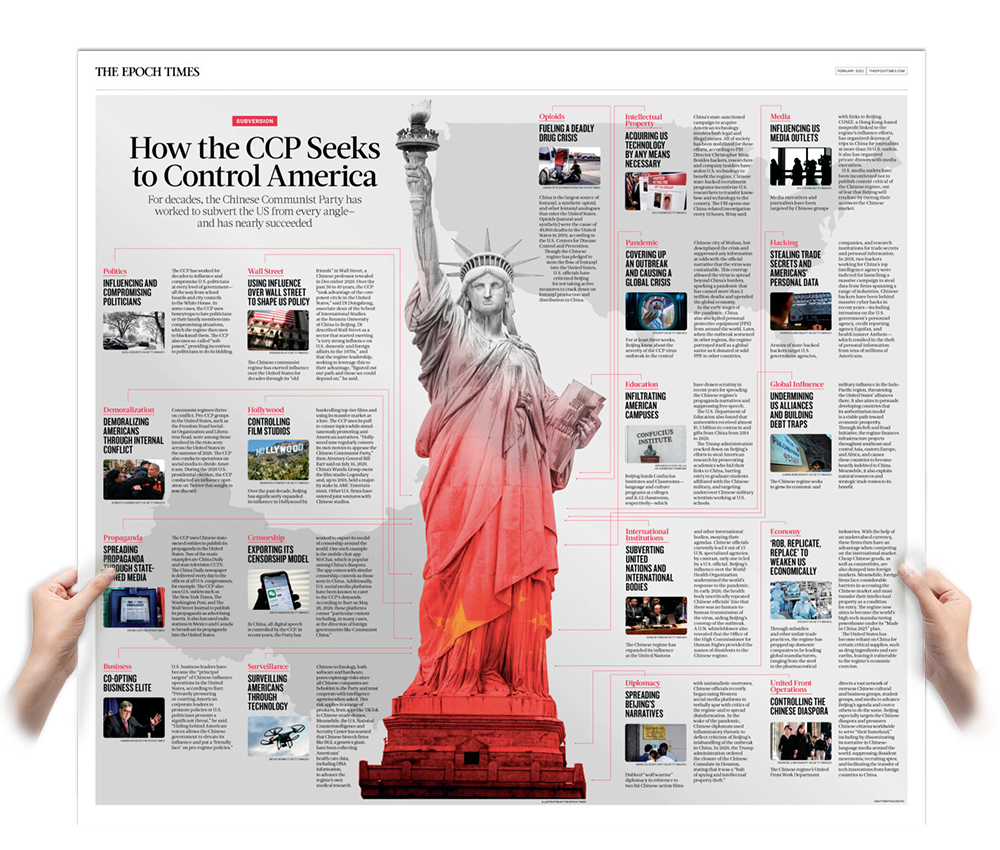 For decades, the Chinese Communist Party has worked to subvert the US from every angle and has nearly succeeded.
Learn More About Our Newspaper
A broadsheet newspaper beautifully laid out with the most important content curated by our team of editors.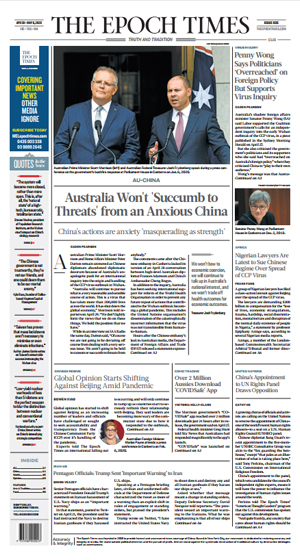 Coverage on Australian and world politics and major affairs without spin or hidden agendas. We provide honest, fact-based journalism and insightful news analysis.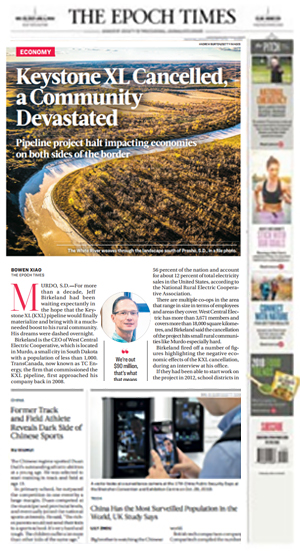 We pride ourselves on our in-depth reporting from the United States, the largest economy in the world. Our investigative journalism has earned high recognition.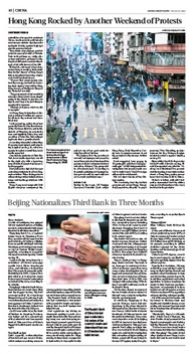 Our exclusive coverage and unique perspective on China has helped inform policymakers and business leaders around the world on how to approach China issues.
EXPOSING COMMUNISM & SOCIALISM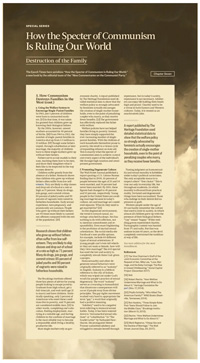 The Epoch Times continuously exposes the damaging ideologies of communism and socialism, and the destruction these have inflicted around the world.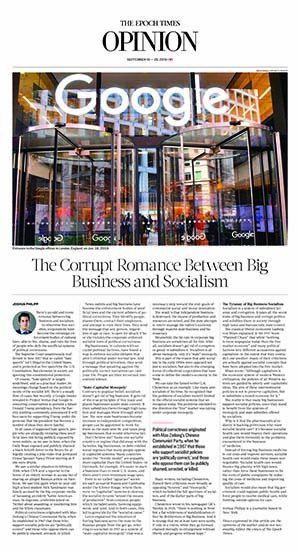 Our opinion section is one of the most popular sections of the paper, with insightful commentary on political issues and events shaping our country and our world.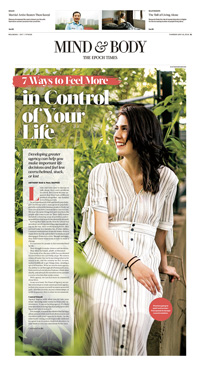 Strives to empower you with information to help you understand how to pursue good health and why that process begins with taking ownership of your own well-being.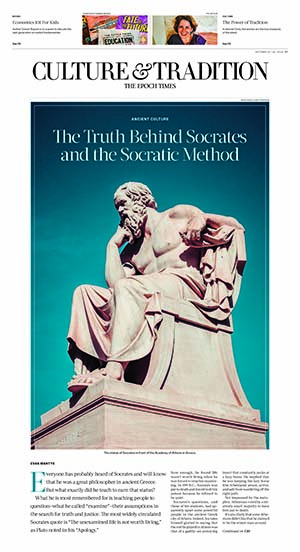 Features stories from ancient times, inspiring personalities who are making the world a better place through their work, and insightful perspectives on the arts.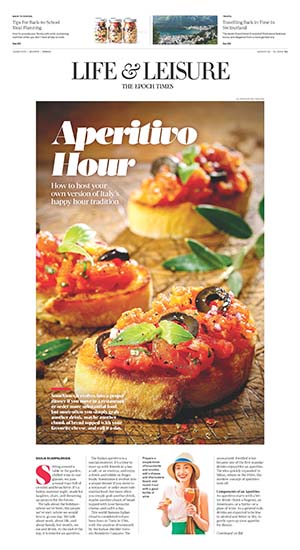 Features the best of traditional dishes and food rituals from around the world, stunning must-see travel destinations, and puzzles and games to keep your mind sharp.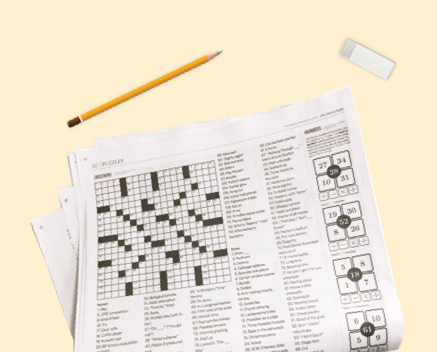 Engaging Crosswords and Puzzles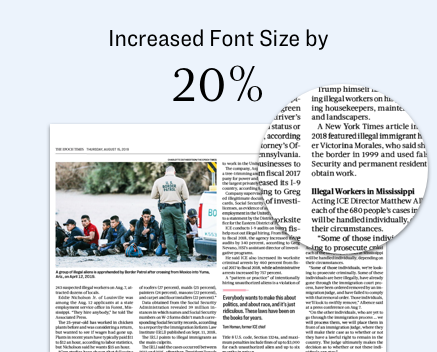 Easier to Read
billed every 12 months at $234*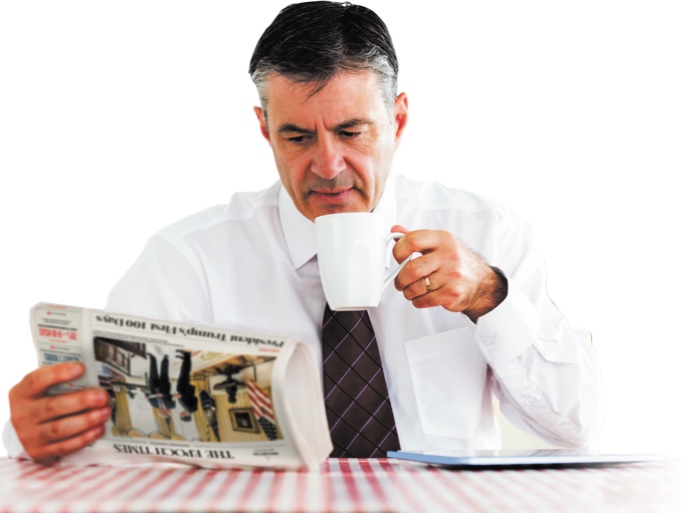 Fair and Factual Reporting
Presenting you with the facts and context - allowing you to make up your own mind.

Covering Issues That Really Matter
On important national issues, and US and China - the world's two biggest economies.

Rooted in Traditional Values
Chasing the truth tirelessly in order to uphold a moral society grounded in virtue.

Exposing Communist Subversion
Uncovering the evils of communism, evident in this nation and around the world.
Expert Recognition of Our Traditional Journalism

Love The Epoch Times. I read The Epoch Times daily. You guys have done an amazing job and really I think there's such a void in media, especially newspapers. They slant so solidly one way that there's very few papers that I can really feel that I can rely on, and The Epoch Times is one.
SEAN HANNITY
TV AND RADIO TALK SHOW HOST

I think your coverage is thoughtful and balanced in a way that I haven't seen elsewhere.
JEFF BALLABON
FORMER SVP, CBS NEWS

I rely on The Epoch Times newspaper for factual and unbiased news coverage.
LARRY ELDER
BEST-SELLING AUTHOR, ATTORNEY AND TALK SHOW HOST

I read The Epoch Times a lot. I think you guys do a lot of good work. And your original mission is a hard one because China is the next great threat, not to us, to all of mankind. I applaud you on all the work you've done.
GLENN BECK
FOUNDER OF THEBLAZE TV

You are one of the few that talks about facts, truth and isn't afraid.
DR. SEBASTIAN GORKA
MILITARY AND INTELLIGENCE ANALYST FORMER DEPUTY ASSISTANT TO THE PRESIDENT

The Epoch Times is a great place where you can understand traditional values in a way and in a tone and through the content that is accessible. It's smart.
CARRIE SHEFFIELD
COLUMNIST AND BROADCASTER

This is the last honest and true paper and news organization out there. You guys have been so far the only ones I've seen that has been consistent with Truth and Tradition.
KINGFACE
MUSICAL ARTIST AND ONLINE INFLUENCER

The Epoch Times has led the reporting on so many different verticals. The Epoch Times continues to report and is indefatigable and won't be turned off and continues to report the truth.
STEVE BANNON
FORMER WHITE HOUSE CHIEF STRATEGIST

It's our favorite paper. It's the first one we read. Thank you so much for your reporting of the news.
REP. PAUL GOSAR
CONGRESSMAN, ARIZONA
There can be no doubt that in assessing the newspapers of the world, The Epoch Times deserves the encomium that it is a leader in observing, to the very highest degree, this timeless enunciation of the first duty of the press.

I really like your newspaper. It is quality journalism. I receive two newspapers each week - The Australian Financial Review, and The Epoch Times. In the past I have read and subscribed regularly to such journals as The Economist, The Spectator, and I rank The Epoch Times as being right up there with the best of journalism, and a newspaper of integrity and professionalism.

Doing a good job, The Epoch times provides enough of the content I expected from it and more. The articles are quite informative and I feel the Epoch times sticks very close to its core values of truth and tradition. I don't feel that the Epoch times makes bold exaggerated claims in its writings which is refreshing. I look forward to receiving my weekly delivery for the weekend where I can sit down and digest everything from the weeks news to health and fun puzzles without an underlying agenda written into the news stories like another organisation that has the majority share of media control in Australia.

This Independent publication is definitely necessary as we see CCP interference in our mainstream media and even in local politician's inner staff and offices.

I have enjoyed reading the other two issues, especially the analytical articles by various experts and the Mind and Body sections. I intend to try out the recipes by Audrey Le Goff, which sound both delicious and healthy. I have tried the leek vinaigrette recipe from one of the earlier issues and we really enjoyed it. Healthy and delicious and even better after keeping in the fridge for a couple of days. Thank you for your most informative and enjoyable newspaper.

The paper has arrived today. I'm collecting and keeping the Epoch Times as a historical record for anyone in the future who wants to know what really went on in these turbulent times. Thank you. Appreciate all at Epoch Times.

A brilliant, deeply insightful publication for the thoughtful person. Epoch Times challenges, invigorates, inspires and educates.

Learn about our history and why 'Truth and Tradition' is our motto.
Winner of the Society of Professional Journalists and Other Awards

Society of Professional Journalists
2012 Sigma Delta Chi Award for Excellence in Journalism— Non-Deadline Reporting, "The Atrocity of Forced, Live Organ Harvesting in China"

Society for News Design
Award of Excellence— Dining Features, Food.
Award of Excellence— Feature Design Page, Arts

New York Press Association
John J. Evans Award for Advertising Excellence—Top Honors.
Richard L. Stein Award for Overall Design Excellence—First Place Photographic Excellence—First Place
What are the fundamental differences between The Epoch Times and other media?
The Epoch Times is the first and only media that exposes the true nature, impact, and ultimate goal of communism. We explain how communist ideology has spread around the world in different forms and caused damage to our moral foundation and to Eastern and Western traditions. We also discuss the outcomes of socialism and its impact on countries' economic and political stability. We believe that the media has a duty to be upright and responsible to society.
The Epoch Times is independent of any influence from corporations, governments, or political parties. Our only goal is to bring our readers accurate information and to be responsible to the public.
The Epoch Times is nonpartisan and values-based. We believe true journalism is based on moral principles. We focus on important issues and on policies and their impact, not partisanship. We report the truth in the midst of a biased media environment. We don't follow the unethical trend of agenda-driven journalism, but instead use our principles of Truth and Tradition as our guiding light to report honestly.
Why should I subscribe to The Epoch Times?
Subscribe and you will get Australian, U.S., and global news, unique commentary and analysis, arts, traditions, culture, family, food, travel, crosswords, puzzles, and more!
The Epoch Times is driven by its mission, not by money.
One of the biggest threats humanity faces is the struggle between freedom and communism. It's a battle The Epoch Times has been covering from the front lines for the past 19 years, and we're happy that more and more people have begun to pay close attention to this threat.
The biggest socialist/communist regime on this planet is the Chinese Communist regime, which is one of the biggest threats to the free world. We at The Epoch Times know well its true nature.
Our efforts alone are not enough. We need you to be a part of this journey.
By coming together, we can win this battle. Subscribing to The Epoch Times will equip you with the facts that can help you make up your own mind and contribute positively to society.
How are my subscriptions billed? *
The subscriber will automatically be charged in advance based on the subscription plan. All subscriptions renew automatically and the payment will be charged at the beginning of each billing cycle unless cancelled in accordance with the full Terms and Conditions.
When you purchase a subscription, you agree to pay the price stated at the time of your order. The Epoch Times reserves the right to change the prices and fees at any time.
For our full terms and conditions, please see here
What is the cancellation policy? *
Subscriptions can be cancelled at any time during trial. If the subscription is not cancelled during the trial period, according to cancellation terms, the subscription will be automatically renewed to the plan that was agreed on at the time of purchase. Cancellations during the trial-period will cause an immediate end of the subscription and the delivery.
All cancellation requests have to be received prior to the beginning of the next billing cycle. If the cancellation request is not received prior to the beginning of the next billing cycle, the subscriber will be charged for the next billing cycle, and the cancellation will be effective at the end of that billing cycle.
All payments are non-refundable.
You may send your cancellation request to subscribe@epochtimes.com.au or call Customer Support on 02 8988 5600. A cancellation confirmation email will be sent to the subscriber.
Click here to learn about our Subscription Terms & Conditions Copyright © 2023 The Epoch Times